Posted
December 16, 2009
in Reviews
PhoneDetective.com Review
My friend had some issues with a random caller on her cell phone, so I decided to try out one of those reverse phone lookup services online to see what, if any, kind of information I could find on someone. Of course, all of these sites allow you to search any number for free, but if you want more information, you must pay.

PhoneDetective.com touts the availability of all this information:
Owner name and address
Phone type – landline or mobile
People search results
Household members
And more
My intention in this operation was to at least get an idea of who might be behind these calls, so I opted to pay the $14.95 (I believe the site changes its pricing often because right now its saying $9.95). Here's what I got for my fifteen dollars.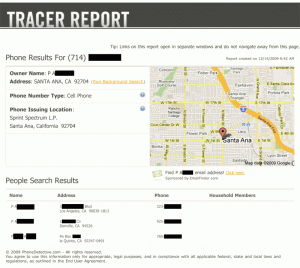 I've blocked out the "sensitive" information, but you can get the idea of what kind of information I got. Since running this report, I've gotten more information on the caller by simply talking to my friend about it and I must say, the person who was on the other end of the phone does not match the person that showed up on the report! Also, the links you see only point toward more services you can pay for. These come in two flavors: a one-time, one-search charge or a monthly, unlimited searches charge.
I also want to point out that the report listed three addresses from persons with the same (or similar) name. To me, this was nothing more than a name search you'd do in the white pages of the phone book. In other words, useless. Imagine how long the report would be if the person's name was John Smith?!
In conclusion, I didn't particularly find any useful information from this website and I'm sure no other sites would be better. However, the site does NOT guarantee any amount of information you'll get on the report, so I can't complain too much. It was a craps shoot to begin with. This review isn't intended to sway you one way or another on using PhoneDetective.com or any similar site—I just wanted to share my experience.
Good luck!
Last words: Aside from you being a private detective where you might actually get some use out of the unlimited searching membership, I doubt you'll get any real value from these services.