1995 Disneyland Map – 40th Anniversary Wall Map with Errors
Dubbed by MouseMaps.com as the 1995e map, Disney released this 1995 Disneyland map honoring their 40th anniversary and the opening of the Indiana Jones Adventure: Temple of the Forbidden Eye attraction. However, this map contained two large errors and was sold for a very short time before being corrected and reprinted. There's no telling how many copies of this map still exist, but I have one that I'd like to show you.

1995 Disneyland Map Errors
In the typical style of original map artist Sam McKim, the 1995, 2000, 2001 and 2005 series wall maps were created by Nina Rae Vaughn and resembled the early maps from 1958 on through the mid-60s. In 1995, there are two known versions of the "40 Years of Adventures" maps — one of which was printed on the typical plain paper used on all other versions and this one, which was printed on higher quality glossy paper.
There's no apparent reason why Disney made the switch, but it can be said for certain the reason for releasing a new version was to correct two major errors (and possibly some others) found on the first run.
Error 1:
The most glaringly obvious error was printed in the upper left corner of the map right under Walt Disney himself. Disneyland was dedicated on July 17th, 1955 and even if you argue that the official opening date was really July 18th, 1955 (first day for the public), neither of these dates were July 15th, 1955 as printed on this map!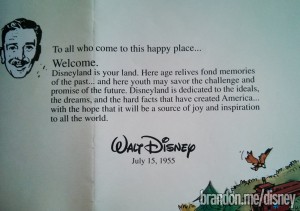 Error 2:
My favorite error on this map is one that leaves a few questions to be answered. Anyone can have a typo here and there as in the mistake above, but how do you explain a noticeable error within the artwork itself? Here we have a mysterious Skyway bucket floating in mid-air and appearing to be completely transparent! The missing Skyway attraction from this poster is accurate due to its closure the year before this map was designed, but one question left open is, how did this lone bucket survive onto this map?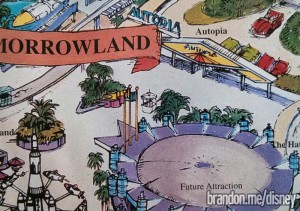 Some people say it was left there intentionally as a nod to a much-loved attraction, while others say it was just an oversight in the art department. Another guess was that Nina Rae Vaughn's previously designed map was used and only changed to represent the current attractions in the park and someone simply forgot to erase all the buckets. To explain the lack of color, it's likely that these maps are created like animated films where color is applied later (by someone else) and that person would have no reason to color something that wasn't supposed to be there. The problem with this theory is that Nina Rae Vaughn's first design appeared in 1995, meaning that her designs should never have included the Skyway attraction at all since it closed in 1994! Ok, it's getting too deep…let's move on!
This last error was really just something I noticed after looking very closely at the rest of the map trying find things to judge, so assume that it isn't an "official" error for this map!
Error 3:
Ever since its opening in 1966, it's a small world has been entertaining (or annoying) guests the world over. Also since its opening, Disney has stylized its name using all lowercase letters to emphasize the word 'small.' This can be seen on the original attraction poster as well as guide maps and even signage posted in the park. However on this 1995 map, the title appears grammatically correct as "It's a Small World."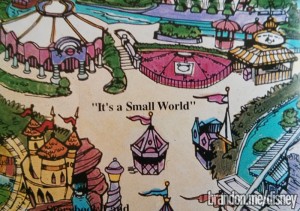 It should be noted that on the second release of the 1995 Disneyland map, all of the attraction names and labels were switched to use all capital letters. This change emulates how the labeling was done on all prior wall maps that were released since 1958.
Autograph
The last thing I wanted to show you on my copy is that it was signed by the artist herself! I originally found out about this error map from an old Disney trivia page and decided to pick it up after finding it on eBay. I was surprised to see that it had the added benefit of being signed by Nina Rae Vaughn. Maybe one day, I'll track her down and see what she knows about this version of the map!