LG Repair Service Review – Water Damaged Nexus 5
I'm the kind of tech user that doesn't buy screen protectors or cases for my devices because I like to think I take really good care of such items — most of which can be quite expensive. So naturally, I have to be the one that goes out with a bang! While it didn't suffer from a cracked screen, I still had to send my phone out for an LG repair.

On July 4th, I left my phone in my shorts pocket and was ushered into a refreshing swimming pool. By the time I was halfway down, I realized my mistake! Immediately I got out of the pool and grabbed my phone to see what I could do about it. Of course today's smartphones don't offer the ability to rip the battery out to prevent shorting out the device.
After watching the screen die out, I later took the entire phone apart and let it dry piece by piece for about 3 days. Once it was completely dry and put back together, I tried powering it up…nothing but a blinking red light.
Out For Repair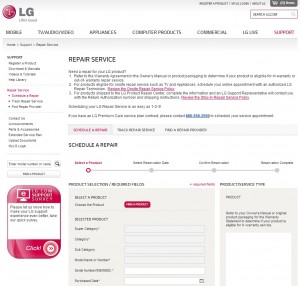 Knowing full well that my phone was beyond warranty repair, I still opted to send it to LG for an estimate. LG does not charge for estimates (warranty coverage or not) and they also don't charge for sending back the unit (repaired or not) so I figured I had nothing to lose.
The way it works is you schedule a repair using their online form. The form is used for all types of LG products and repair options. For example, if you have a tv, you can schedule a technician to come out to your location rather than shipping it in. The product you select will determine your options.
Obviously with a phone, my only option was to mail it in. Once the form is filled out, you are issued an RA # and told where to ship your phone.
No Communication
While the LG repair tracking system did keep me somewhat informed, I expected that an automated system would have sent off some emails as my repair status changed. Only because I'm a curious person did I know what was happening with my repair.
Then suddenly one day my status said "repairs complete" and my phone was being shipped back! I thought maybe I got lucky and they actually did the repair under warranty, but I decided to contact a live chat agent to find out what happened. I was told my phone was being sent back un-repaired because it could not be fixed! I've dealt with water damaged phones before and have replaced my fair share of logic boards, batteries, screens, casings, etc. so I know that phones can be fixed no matter what…as long as you're willing to pay the price.
But sure enough, about a week later I got my phone back in the same condition I sent it in.
Final Thoughts
The whole process was very simple and handled within a reasonable amount of time. My only complaint would be the lack of communication. Of course in my situation, I guess it really didn't matter because LG was incapable of fixing the phone anyway.
So now I just have a dead Nexus 5 on my hands? Not likely! I decided to test a couple of things. First I unplugged the battery and plugged the phone into the wall. Interestingly, it powered up to the Google logo and then kept restarting. I plugged the battery back in and keeping it plugged into the wall, I tried powering it up again. This time it fully booted!!
I noticed it said the battery was charging, but after leaving it sit for about 10 minutes, it still showed zero percent. I decided to hit up eBay and found a replacement OEM battery for about $15. A few days later, I popped that sucker in and voilà, the phone lives again!! It charges and stays on unplugged. The screen works, the speaker, earpiece, vibration, buttons, headphone jack, everything!
The only downside is every once in a while when the screen hasn't been turned on in a while is the bottom half will get washed out, almost turning completely white and then after about a minute of staying on, the screen pops back to normal albeit with a few (very small) permanent water spots that can really only be seen on plain white screens.
So I did what LG couldn't do for about $15 and I get to have a nice spare phone on hand. In case you were wondering, my primary phone is now the OnePlus One.