Amazon's New Smartphone – Fire Phone – in 3D
It's no secret that I'm a huge Amazon user. I haven't found much I cannot purchase from there and have delivered to my house 7 days a week and as a Prime member, things get even more amazing. And now, Amazon has a smartphone to wrap everything up in one big smiling box.

The new Amazon phone is dubbed the Fire Phone and appears to be a pretty nice contender in the smartphone world. Here are the basic specs so far:
4.7in screen
2.2GHz processor
Adreno 330 graphics
2GB of RAM
13MP rear facing camera
3D screen
PRE-ORDERS ARE LIVE NOW!! Ships out July 25th. With contract: $199 for 32GB and $299 for 32GB. No contract: $649 for 32GB and $749 for 64GB
Many thought this was going to be a discount phone, but it seems that it's right on par with typical smartphone pricing. The phone will integrate flawlessly with Fire tablets and Fire TV for full media streaming of videos and movies to your tv. Amazon is also throwing in unlimited storage on Amazon Cloud! That's a sweet deal. Let's take a look at some of the biggest features.
3D Screen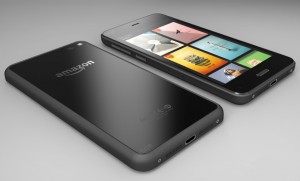 The name of this new feature is called Dynamic Perspective and will automatically adjust the images on the phone's screen based on how the user is looking at the screen. It does this with the use of multiple front facing cameras that are always looking at your eyes and face. Users can now open apps, view menus and essentially alter the on screen content simply by moving their head or tilting the phone.
No word on how the phone will react to accidental movements, but so far it's shaping up to be a very unique feature that just might make this phone stand out in the crowd. Game developers will no doubt take advantage of this feature through the use of motion capturing your movements to affect gameplay.
Amazon Firefly
The Fire Phone has a new dedicated button that opens up a whole new world of connectivity! Pressing and holding this button will allow the phone to instantly recognizing things like phone numbers, book covers, UPC bardcodes, music cd images, Blu-ray box covers, etc. in order to connect you to a way to check pricing on Amazon and of course make a purchase. Going further than that, Firefly also recognizes music that's playing, tv shows and even art! From there, you can browse Amazon or the internet for more information on just about anything you snap a picture of.
Imagine being able to snap a shot of a billboard far away and Firefly instantly recognizes the phone number or web address and sends you to where you need to be. According to Amazon, Firefly can already recognize over 100 million items!! And developers will be happy to know that the SDK is available today so app makers can start integrating product recognition today. As an eBay user, I would love the ability to quickly snap a pic and be able to check for cheap prices online.
For each item that Firefly recognizes, a list of actions come up that allow you do perform applicable items; things like buying a hardcover or paperback version of the book, buy or stream a specific movie or share something with your friends.
Amazon Prime
Amazon Prime membership ($99 per year) not only includes FREE 2-day shipping, but also unlimited streaming of thousands of movies, tv shows and now over a million music tracks! Integrating all these media services into a handheld phone is something that not many phone makers can do at this point. Sure Apple has iTunes, but doesn't have a general merchandise store. Google has Google Play, but again, no general merchandise store. All other phone makers piggyback on Apple and Google for these media services, so it looks like Amazon has a leg up in the products and services arena.
Amazon already has a selection of Kindle Fire tablets that have been very successful at integrating the Prime services with a device on which can also play Angry Birds and check email. The Fire Phone looks to continues this success while adding the full features of a smartphone.
My two cents
From what I have seen so far, I dig it. I can't say that I will switch anytime soon, but I'll have to at least see it and hold it in person before saying yes or no. I'm curious how the 3D screen looks and whether Firefly is all it's cracked up to be. If you're in the market for a new phone, I will say that the Fire Phone is certainly one to consider! Good job so far Amazon. 🙂