Beware of New AT&T Wireless Phone Scams
I can't say for sure how "new" this phishing scam is, but I can assure you it's no April Fools Joke! A friend of mine got a similar message a few weeks ago and I just got one the other day so it looks like these guys are on the prowl. So far, the scam has been seen by AT&T Wireless customers, but it could be modified for just about any carrier or any business for that matter.

How it works
You get a phone call from an 800 number with an automated recording that tells you to visit a website after alerting you of a monetary value (they call it a discount) for your account. According to their instructions, you're supposed to log into your AT&T account on this site and an account representative will review the claim and apply the credit to your account within a couple of days. This scam can offer you any amount of money, but the premise is the same.
Listen to the message that was left on my phone:

Transcript: "To redeem your $1,000, please visit www.attdiscount1000.com; www.attdiscount1000.com. Simply log into your account to redeem your $1,000. At AT&T, we care about you. Thank you and have a nice day!"
The problem is that the domain they used looked shady from the get-go. Granted, many companies today use random domains and URLs to market various contests and special offers, so I wasn't immediately thrown off. However, in almost all cases where a legitimate company has used a special marketing domain, once you type it in, you are usually redirected to the official site where you can read the details about said offer and sign into your account.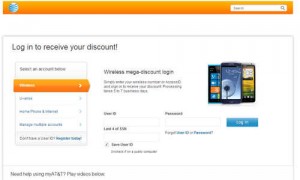 In this case, I was told to go to www.attdiscount1000.com (domain has already been taken down) because I had a $1,000 discount waiting for me. I already assumed it was a scam, so I decided to check it out and see how well they set it up. As expected, the site looked exactly like AT&T's official site but it didn't have any of the navigational menus or other vital links that would likely give up their scam to savvy users.
Protect yourself
Just going to websites like these isn't usually dangerous — unless of course the site tries to install some malicious software or something. So if you happen to fall for the initial bait, just remember these tips to help you get out without any trouble:
Check the domain – As I said before, most legitimate marketing domains will redirect you to the official site for the company. In the above example, had I been redirected to att.com and found more details about the offer and was told to sign in, this probably would not have been a scam.
Pay attention to the details – The first thing I noticed upon arriving at the phishing site was that while it appeared to look like AT&T's site, it was missing the top menu bar, the copyright date at the bottom said 2013 and for the login prompt, it was asking for my username, password AND last four digits of my SSN. I know that this was not typical of AT&T.
Try to login – Wait! Don't try with your correct login credentials! Try using a random username and password to see what the result is. A legitimate website would know that what you entered was incorrect and would alert you. After doing just that on this site, I was presented with a page that said "Thanks for logging in! An account representative will apply your discount shortly." Obviously a scam at that point.
Just call – If you want to go old school, just call customer service to verify that the offer is legit. Always remember that if it sounds too good to be true, it probably is. The other upside to calling it in is that you are now alerting AT&T of the issue and they can find ways to stop the problem.
The above information can be helpful for just about any type of online scam. Many people would read a story like this and just shy away from the internet altogether, but I say, don't be afraid of it. Just learn how to see these things coming your way and understand how these scams work.