After 14 Years With AT&T, I Might Be Switching to T-Mobile
It's been a long haul all these years—I started with PacBell Wireless, then watched as they changed into Cingular, enjoyed the merger with AT&T Wireless and then ultimately ended up becoming AT&T Mobility. Throughout this time, I've held many different rate plans and more phones than I can remember. Being a tech nut, I was excited to be a part of advancing technologies, but for one reason or another, I never had the desire to switch services.

Up until now, AT&T has always been able to suck me back in and somehow force me to overlook horrible service issues, bad customer service and even pricing hikes. Most of the time this was because I was under contract after upgrading my device, but all that changed a few years ago when I decided I no longer wanted to be under the thumb of Big Blue.
To upset the status quo, I started buying my phones at full price.
Sometimes I even picked up used models that were only a few months old. In rarer cases, I would save money by picking up a broken iPhone and bringing it back to life with very little effort. Thanks to the SIM cards that AT&T has used all these years, switching phones was as easy as popping the card in the new device and turning it on. For me, trips to the local AT&T store to activate new devices while trying to dodge the latest sales pitch were a thing of the past.
Why Now?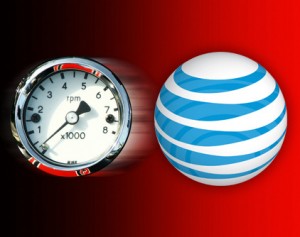 To be honest, the last remaining item that has kept me with AT&T is my grandfathered unlimited data plan. This plan is amazing with my 4G LTE Nexus 5 until I reach 5GB of data in one month. That's right about the time AT&T slaps a speed limit on my account which slows me down to something less than 3G speeds. Of course, there are months that go by where I don't reach this limit, but I find myself streaming things more and more and time goes on. My drives to and from work now consist of streaming iHeartRadio or Google Play music. Sometimes I listen to Pandora and when I'm riding in a car, I'll watch Netflix.
The reason I'm looking at T-Mobile is because Verizon got rid of their unlimited data plans some time ago and Sprint doesn't support my new phone. T-Mobile's new Simple Choice plan is downright awesome. For $70 a month, I get unlimited talk, text and web. That's unlimited 4G data. I spoke to a customer service rep about what they meant by unlimited and she said, "Unlimited is unlimited." I told her about my AT&T woes with the speed caps and whatnot and she said not to worry because T-Mobile doesn't cap speed—at least not anymore.
Another thing I love about T-Mobile is their lack of contracts and no shared data plans with extra lines. AT&T has does away with individual data plans and now forces you to share your 5GB (or higher) plan with all lines on your account. If you want more data, you pay more money; lots more. On T-Mobile, everyone gets their own data plan and you get to set the limits. Once I get settled in, I'll do another write-up comparing the two services and how much each one costs.
The Test
Given that my company pays for my cell phone bill, I have the pleasure of being able to sign up for T-Mobile's Simple Choice plan without having to cancel my current AT&T service and more importantly not have to pay for two cell phone bills during my testing period. The test will consist of a few benchmarks:
24/7 usage on the same phone I currently use on AT&T (Nexus 5)
Test will last for at least 2 full months
I will far surpass the 5GB data mark on 4G
I will not connect to wi-fi at all during the testing phase
I will not alter my normal routines of daily life
Hotspot testing will be done through Nexus 5 device and will NOT use T-Mobile's specific hotspot service
Doing this now with the holidays coming up will also give me the ability to test T-Mobile's network during peak usage times.
My Two Cents
Most people in my position who already have a 21% corporate discount applied to my bill plus my current company pays for it entirely might ask, why switch? The easy road is to just say who cares…I'm not paying for it anyway, but to me it's principle. Since I no longer buy my phones at subsidized pricing, I no longer benefit from using AT&T's pricing model. What I mean is if my bill with AT&T is $100 a month, I'll still be paying $100 a month after my 2 years is up. With T-Mobile, my plan is $70 per month and if I decided to buy a device at a subsidized price, they tack on $20 a month for 24 months to cover the retail cost of the phone. Now I'm at $90 per month. But the difference is once the device I bought is paid off, my bill goes back down to $70.
All you get with AT&T is a discounted phone and a 2 year contract. The bill stays the same. I know they are starting to roll out their AT&T Next program that may change things a bit, but to be honest, T-Mobile is at least $20-$30 a month cheaper no matter how you slice it. And it's fully unlimited.