What happens to your Google data after you die?
I often think about this question because a lot of what I do for work and pleasure has some kind of connection to the online world with most of it residing on Google's servers. Be it sharing photos, posting status updates, storing personal files or just blogging about things that interest me, all of this stuff will one day be frozen in time.
If you're worried about all of this data floating around after you've gone from this place, you can rest peacefully knowing that Google has just announced today a new feature called Inactive Account Manager. It allows you to configure a timeout on your account for some point in the distant future. If this time passes without you logging in, your account will begin the process of closing itself and deleting data.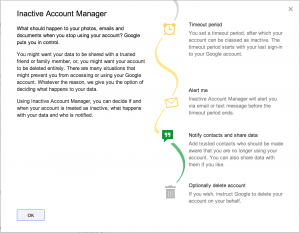 You can choose between 3, 6, 9 or 12 months of inactivity before any action is taken by Google on all of these services: +1s; Blogger; Contacts and Circles; Drive; Gmail; Google+ Profiles, Pages and Streams; Picasa Web Albums; Google Voice and YouTube. After the time has passed, Google will reach out one more time by email and/or text to make sure you haven't allowed your account to lapse by mistake and then it's all gone. Of course, this could cause a major upset for people that go into a coma after turning IAM on and then waking up one day to find out they've been erased from Google. Regardless, I think this is a great feature that a lot of other social media companies should implement in some form.
One major drawback so far with Google's new tool is that it currently does not work with Google Apps accounts. My guess is that it's assumed that companies running Google Apps for their employees have their own measures for how to dispose of any data left online. But this poses a problem for someone like me who uses Google Apps for personal use simply because I wanted to have my email hosted through Google. Time will tell if this restriction gets eliminated, but for now, those who can use it should seriously consider it.