How to cheat Google AdWords and make thousands per day!
That title is right! However, it's very sarcastic in that I'm not going to show you how to do it any more than I'll be exposing how it's done. I know that doesn't seem to make sense, but what I mean is that this article is an exposé, not a guide. The intent here is not to defame anyone specifically, but to expose a truth about things that are really happening that I don't completely agree with. And for the record, no, I'm not bitter about not being able to perform these "tricks" myself. I'm just a blogger who actually chose the straight and narrow path of creating a website with actual content that I feel will help users—this article being one specific example.

To help illustrate where I'm going with this, we need to take a little history lesson. First I'll explain how it used to be, then what it became and then how it is today. Let's get to it!
Google AdWords
This wonderful service from Google is the exact opposite of AdSense. With AdSense, publishers (like me) can place ads related to content on their website(s) in hopes to make some money from publishing useful and valuable content. Take a look at the banner to the right and at the bottom of this post to see what I mean. Google AdWords is the service that actually places those ads there by allowing advertisers to buy ad space. This service also allows advertisers to buy ad space on Google search results pages (sponsored results). This article will focus mostly on that form of AdWords.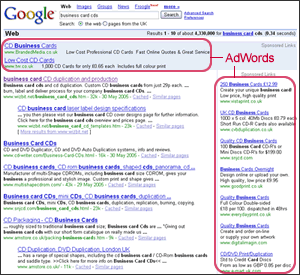 Every time you search on Google, you'll see three sponsored search results at the top and a whole list running down the right side of the page. This is a dramatic shortcut for companies and individuals to get their website placed on page 1 of the search results page, whereas without this service, they might be lost hundreds of pages into the results and probably never found by any visitors. Of course this can come at a high price as most companies are paying high dollar amounts for every click that Google sends to their site. So remember that next time you click on a sponsored link—somebody, somewhere has paid for that click.
Affiliate Marketing
In its simple form, affiliate marketing is a way where a company can have you promote their products and give you a % of the revenue as incentive. For example, every Amazon.com product I promote, I will get 4% of its selling price just for sending you over to the site to buy it. I do this constantly and I make no attempt to try and hide this fact. This website costs money to run and in order to offer it to you for free, I try to make what I can by promoting products and services people buy anyway. It costs them nothing to buy things through my site if they were already going to purchase it.
Anyway, with heavy amounts of traffic and lots of people to market to via an email list, you can imagine how much money could be made if people responded to links like these. And some of these affiliates pay direct commissions like say $45 to sign someone up for a credit card. When you start multiplying these numbers by hundreds or thousands of visitors, you can see how it's "possible" to make $10,000 per day or more.
Now, mix this with Google AdWords and you have a recipe for worldwide domination! Imagine, you could spend some money promoting just an affiliate link and started receiving thousands of clicks per day. Let's look at an example:
You have an affiliate offer that pays you $45 for every signup. You have an advertising budget of $10,000 per day. You decided to advertise your offer at $0.25 per click. This means you're willing to spend $10,000 per day for as many 25 cent clicks you can get, which happens to equal 40,000. Google runs your ad campaign and off you go. The next day you look at your numbers. Your ad was shown over 1 million times and received 12,430 clicks. Those clicks cost you $3107.50. However, out of those 12,430 clicks, 153 people signed up for the offer you were pushing. At $45 per signup, you just made $6,885. After soaking up your losses, you made $3777.50 profit.
It's starting to make sense why you see all over the Internet, ebooks on how to make thousands of dollars per day on Google. Well, maybe not so much anymore because Google caught on to this mayhem.
Google Cracks Down
No, Google was not against making money online and no, they weren't out to punish the top marketers for utilizing a completely legal system to make tons of cash. What happened was that they realized that everyone was doing this and as a result, legitimate companies were being squeezed out of the sponsored results and/or having to pay much higher dollar amounts to stay on top of all the junk. Remember, it's a bidding process and the highest bidder gets to be number 1.
What Google did back in 2009 was eliminate the ability to create ads for affiliate links through AdWords. They did this by implementing a harsher review process and most likely huge lists of unacceptable domains and websites. Their goal was to keep the search results clean by only allowing ads to be created that linked to legitimate websites offering real content, products and services.
Of course the debate was launched as to what qualifies as "real" and "valuable" to the end user, but Google's belief is that the end user would rather be sent to a page that has unique content and important information regarding their original search. An example might be if you searched for how to make money on eBay, you probably would much rather be sent to a page that offers real help and tips for how and where to get products you can sell or techniques on how to make your listings look better instead of being sent to a one-page affiliate link that offers to sell you the super secret eBay sellers handbook for $97.
Personally, I agree. In short, you can no longer (legally according to Google's terms, not the law) purchase ad space through the AdWords system for direct referral and affiliate links.
The Rockstar Alliance
This is no joke…that's their name. For the low price of $1997 plus $297 (or $197 depending on a sale or not) per month, you can have access to a software suite

and training materials that will help you cheat the system. Now, they point out that by using this system, you're not actually breaking any laws, so you can't be sent to jail or anything, but you can have your AdWords account suspended or banned. It's ok though because they will teach you how to create new accounts and show you how to keep them from getting banned. That's good…I was worried for a second! Ok, moving on…
Before I continue, I want to say that I'm not here to blast these guys and pass judgment on what they're doing. Personally I would only care if I was somehow losing important visitors and money because of their bogus ads. Fortunately I'm not, so feel free to form your own opinions on this. I'm not here to police anyone, but I thought I'd help inform people so they know upfront what they are getting into if they decide this is for them.
Since I'm not a paying customer of this system, I can't explain everything that it entails, but from what I've seen, I can tell you the following:
They are running a cloaking service via multiple AdWords accounts and proxy servers set up all over the world. The gist of what you do is you create an ad in their system that has two URLs, the real one and the fake one. Once in their system, you then take the fake URL and build an ad around it in Google AdWords just as you would any legitimate website. When the Google bot goes to review the content, they see a legitimate link that contains real content related to your purchased keywords and your ad is approved.
However, when a user clicks on your ad (after seeing a legitimate looking URL, site description and preview image) they are redirected to the REAL URL which is the landing page for your chosen affiliate program. You know…the landing pages you see everyday that always sell something that started out at $197, then got cut to $97 and then got reduced again to $47…oh but only for a limited time, so act fast!! If those figures look familiar to you, it's because almost every single one of those affiliate offers uses the exact same business model and pricing! I think it's lame and unoriginal.
To most unsuspecting users, they will either signup for the offer or click the back button, so these guys probably feel like they're not hurting anyone, but I disagree. For example, if I'm a reputable company that is spending my good hard-earned cash on trying to get people to my site, I don't think it's fair that I have to compete with junk sites. Google maintains this thinking and so do many others. The reason for it being unfair isn't just about money or competition, it's about quality. Let's say out of the 10 sponsored links, my company is number 6 and the first 5 are junk affiliate links. A Google search is performed and the user clicks on the first link, finds out it's junk, clicks back and clicks on the second link. He/she finds out that's junk too and tries the third link. Feeling frustrated, he/she might try just one more and after finding out the fourth one is also a junk link, they stop clicking on sponsored links.
In this extreme example, my link never got clicked and I could have lost a customer. Of course you could also argue that because my link never got clicked, I also didn't spend any of my advertising money, but that's not the point. Google is trying to create an exceptional user experience for both visitors and advertisers. I find that kicking out the affiliate-only websites is a great first start.
Conclusion
I'm not a hater. I didn't try this system and fail so now I'm here to be bitter. As I said in the beginning, I'm a simple blogger running this little website and I make some small about of money doing it. Because of this, I feel like since I'm playing the game by following the rules, I don't like when I hear that others are not. Plus, in the near future, I might be launching a business in which I will require the services of AdWords and I don't like the idea of competing with people running these cloaking services.
The other point I always seem to gravitate toward (even when I see money-making ideas on tv) is that if these people were really making tens of thousands per day or even per month, why in the world would they come out and tell the world about how they're doing it?! Even if you argue that they're doing it to be charitable and to help out the "littl guy", why would they feel the need to sell it?
I'll tell you two facts right now. 1. If I found a way to consistently make $10,000 per day, I wouldn't tell another human being as long as I lived. 2. Even if I decided to tell someone, I would be making so much money, I wouldn't need to sell it.
If you're making $300,000 per month, what would another $2,000 do for you?! At that point, it's just pocket change. Naturally, these are my opinions and I know that greed is a powerful force, but I think you can see my point. And if you look back into the annals of time, you'll notice that every single great money-making idea that ever appeared on tv or the Internet has failed in one way or another…bankrupting many people along the way.
All I can say is that this system does work…I saw it work and I know with the right amount of work and dedication, you can make lots of money. Nobody is arguing that. The problem I have with this system is that it's ethically wrong and once Google finds out how to plug this loophole, the game is over. At least I'll still be running my little site that keeps growing and growing the right way.