DecalGirl Skin Review – iPhone 4, 13" MacBook, Xbox 360s
I don't remember exactly where I found this site, but after looking it over, I decided to buy a few things. First of all, for anyone who knows me, I despise technology cases — meaning any type of case or protective barrier placed between your hands and your cool new device. I know they provide protection, but at what cost?
Of course there are some that are less-obtrusive than others, but generally you get two things from a case. 1. A device that is now thicker and/or larger than the original size and 2. The covering of the overall design, which ironically is probably the main reason you bought the device in the first place!
Technology Design
This is never more true than with cell phones and it is especially true with the iPhone. It's because for most of us, our cell phone is a fashion statement. We buy devices because of how small they are, what color they are or how "cool" they look. In some cases, we put features and functionality second.
For me, Apple products are about as stylish as you can get with technology and I'm not afraid to admit it—about 60% of my purchasing decisions lean toward Apple because frankly, they make some really cool-looking stuff!
Anyway, I'm here to talk about these new skins.
DecalGirl Skins
Contrary to the name, these skins are not specifically for girls. In fact, if you head on over to the site, you'll find hundreds of designs that will make your head spin if you try to just pick one you like.
Skins are simply decals that stick on your device and serves two real purposes. 1. You can completely change the style of your device and 2. You now have some basic protection against minor damages such as light scratches.
The reason I love skins is because they don't add any dimension to the device which means if you're like me and you don't like to hold your sleek new iPhone 4 strapped in a bulky case, then you'll love them too. After going to the site, I found that there were TONS of styles for TONS of devices — everything ranging from cell phones to video game machines.
As I mentioned before, I couldn't just buy one, so I got 1 each for my iPhone 4, my Xbox 360S and my 13″ MacBook. You can browse through hundreds of skins for many, many products right now through this link: Brandon.me/skins.
Xbox 360S Decal Girl Skin Review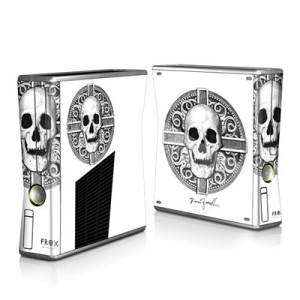 I decided to stick with the skull theme started with my iPhone skin and I have to say that the Xbox skin is the best one I bought; not just in design, but also quality and installation. Basically, the Xbox just seems to look better with a skin, whereas the Macbook is not completely covered and the iPhone seems a bit "busy".
I posted a video on YouTube of me installing the DecalGirl Xbox 360s Skin. It's sped up and cut down to about 2 minutes, but overall the whole project took under 15 minutes. The great thing about the Xbox skin is that it's so large, which makes it much easier to apply than the others I purchased.
The design I chose was called Bite and it was the matte version. I figured the glossy would look a little cheesy being that the skin is so large.
Final word: I like the Xbox skin much more than the other two I bought. The reason for this is because it fit so well and looks really good in a larger format. As you can see in the video, the Xbox skins cover a large portion of the device and this includes the disc tray and USB port cover. I have no complaints about the Xbox 360s skin! Here's the video of my installation:
iPhone 4 Decal Girl Skin Review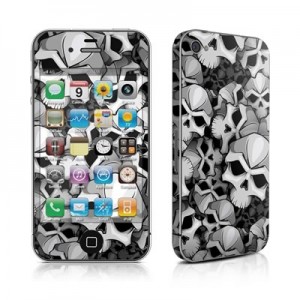 The iPhone 4 has the advantage of being perfectly square unlike it's predecessors. For anyone applying a skin to the iPhone 3G or 3GS, you'll notice that the most difficult areas of application are the rounded corners. I opted for the glossy version of a design called Bones. Although I'm a fan of the matte look, the iPhone 4 was already glossy so I decided to keep that feel.
As of this writing, I've been using the skin for a couple of months and I must say that it holds up very well. There are no areas where the sticker is peeling up and the few scratches it now has are very minor and hardly noticeable with all of the features of the design. Even though this design is black and white, the "colors" are holding up perfectly. There are no bleeds, fading or rubbing off anywhere.
Final word: If you're looking for a quality skin to protect minor damage to your phone, look no further. The skins from DecalGirl are high quality, available in matte or glossy finish, apply on both versions (AT&T and Verizon) of the iPhone 4 and are removable. They also come with a free image you can use on your home screen to match the skin. My only gripe is that the outer edge parts of the skin are so finely cut, that they reach the sides perfectly and this causes you to be able to feel the edge of the sticker. In time, this wears down, but I thought I'd mention it.
13″ MacBook Decal Girl Skin Review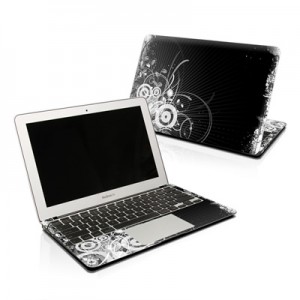 I was already super impressed with the aforementioned DecalGirl skins, so I knew this one would be just as good. And in most respects, it is. I chose the design Radiosity, which ironically now makes my Macbook look like an HP laptop! I chose the matte edition of this to keep with the already matte finish of the aluminum Macbook I have.
The application went well except the keyboard area due to the very slender portions above and below it. I had some trouble getting this area to line up with the rest of the skin and almost folded over the sticker a few times. Eventually, I got it and it looks great.
If desired, you can still put on a plastic case like those from Speck without affecting the look of the skin.
Final word: My only real complaint about the Macbook skin is that there are no bottom or side pieces. I know the bottom isn't seen that much, but with that and the sides missing, it becomes glaringly obvious given the drastic contrast between a black skin and the aluminum color of the laptop. Another minor complaint is the fact that the lid portion of the skin covers the glowing Apple logo. Other than that, the skin is great and will protect the Macbook from minor scratches.
Pick up your skins from Brandon.me/skins!