Obama hates the iPad and other technology!
Ok, so "hate" is a strong word and Obama didn't actually say that, but what he did say was that devices like iPads, iPods and other tech gear may be more of a distraction than tools for educational purposes. Normally a comment like this coming from the President (or anyone older than 40 for that matter) would simply be dismissed as coming from someone not in the "know" or just an un-cool individual.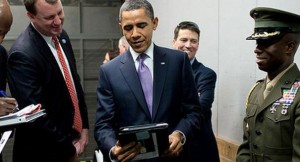 However, it was the audience that he directed his comments to that is probably what's causing a stir.
He was speaking at Hampton University with hundreds of college students in the crowd. The 2000-word speech contained the following quote:
And meanwhile, you're coming of age in a 24/7 media environment that bombards us with all kinds of content and exposes us to all kinds of arguments, some of which don't always rank that high on the truth meter. And with iPods and iPads and Xboxes and PlayStations — none of which I know how to work — information becomes a distraction, a diversion, a form of entertainment, rather than a tool of empowerment, rather than the means of emancipation. So all of this is not only putting pressure on you; it's putting new pressure on our country and on our democracy.
What I got from this was obviously not a direct attack at technology, but more of some smart advice. We've known for years that tv will rot our brains and listening to rock and roll music will make us want to do drugs and grow our hair long, so maybe this isn't news after all.
I can at least agree with him when he brought up the point in another speech where he said that kids should put away their toys and replace them with learning tools and early bedtimes.
All I can say is that I'm glad I'm grown up and can safely enjoy my MacBook without distractions. Unfortunately, I can't put it away because I'm so hooked!