A $4.93 regional sports fee keeps me from subscribing to DirecTV
We're living in the age of cord cutters; you know, those of us who no longer require 24/7 television coverage spanned out over 1,000 channels. We live in a much simpler (yet more complex) world of having to rely on services such as Netflix, Hulu, HBO Now, YouTube, etc. for our TV entertainment. In other words, à la carte entertainment is the preferred method. What makes it simpler is usually the pricing structure. For many of us, we get all the entertainment we need for under $30 a month (not including the internet bill required to get us there). What makes it more complex is having to switch through different apps and sources in order to find what we're looking for, but devices like Roku are making this process much easier.
However, there's one group of people for which this model doesn't usually work and they are the sports fans. Sports are usually watched live as the games happen and for that to work, you need access to live tv. Sure, you can get yourself an HD antenna and grab the free network stations available in your area, but long gone are the days when you can watch your local team on a local station. Now, watching sports can be an expensive add-on to your already expensive cable bill. You can pre-package sports channels that give you access to every single game in every single market across the country and even internationally.
The Regional Sports Fee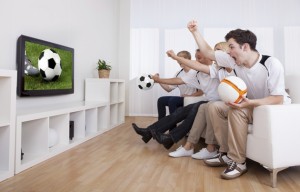 It's no secret that the sports industry is HUGE in this country. Between football, baseball, basketball and hockey, some people just can't get enough year after year. As a result, the owners of the teams and the leagues have positioned themselves to make billions upon billions of dollars through franchise licensing deals, stadium operations, concessions and most of all, television broadcast rights. According to DirecTV and just about every cable provider, in order to provide a more manageable cost of having to purchase broadcast rights for their many viewers, they have instituted a regional sports fee. DirecTV allows you to search your zip code to find out how much your fee is. Mine happens to be $4.93 per month which comes out to $59.16 per year.
DirecTV defines the regional sports fee as:
The Regional Sports Fee is a result of higher costs due to contractual obligations requiring us to offer multiple sports networks in select ZIP codes, or in rare instances, a single RSN that carries games from 4 or more teams. These local RSN(s) are included in most base packages, but there are some that do not include RSNs and are not subject to a Regional Sports Fee.
In other words, if you live in an area that is covered by multiple sports networks, the provider must offer all of them in their channel packages. Because the costs of offering all of them is so high, the provider opts to offset the increase by spreading out a "nominal" fee among ALL subscribers in that area! This means that when the LA Dodgers signed a $7 billion deal with TWC for SportsNET LA, even Angels fans had to help pay the subsidized cost.
This is where I have a problem. I don't watch sports. Nobody in my home watches sports. I don't ever foresee myself or anyone in my home watching sports. But if I were to subscribe to DirecTV, I'd have to pay almost $60 per year to help offset the costs of having sports networks in my channel package! The regional sports networks are getting more expensive for providers to carry them and while their content is aimed at sports superfans, the rest of us sports 'no-fans' are picking up a piece of the bill.
The Solution
I strongly believe that if the cost of broadcasting sports is going up, then the sports fans are the ones who should bear the cost increases. If those fans alone can't afford the increases, then it looks like the market has increase as far as it will go and the sports networks will have to lower their broadcasting fees. I know there are programming packages that do not include sports, but many people have complained that there are plenty of other missing channels as well. So in order to get a few of your favorites, you might be forced to upgrade to a large package, one that no doubt will include sports channels.
My proposal is to take sports out of all the standard programming packages and let the subscribers choose to add various sports networks to their plan as they see fit. This way, the ones who actually want to watch sports at home can do so and will pay the price currently set forth by the leagues themselves. My fear is that this will never happen because there's too much "free" money involved.
I really have no problem with DirecTV running their business and I understand that they need to recoup their operating costs somehow, but for someone like me who wouldn't even casually stop off on a sports channel and watch a game just for fun, it just doesn't seem fair to charge me for it. Of course $4.93 a month isn't a whole lot, but this issue is all about principle and until a change is made, I'll never subscribe to cable tv again, DirecTV or otherwise. To be honest, I've gotten so used to life without all those useless channels, I may never go back at all.