Why is Disneyland so expensive?
The problem with answering this question is that the reasoning is subjective. The typical "what's expensive for some people may not be for others" comment applies here as does the thought of, "Do we get our money's worth regardless of the price?" To simplify this comparison, let's just focus on park admission. 1959 is the best year to start this comparison since Disneyland was only 4 years old fairly well-established by this point. In June of that year, Disney introduced the E ticket to better accomadate the new attractions at the time.

1959 Admission
This is just one example of a standard ticket book you could purchase at the front gate for $4.50 in 1959 and for that price, you'd get a ticket into the park and 15 attractions: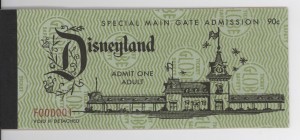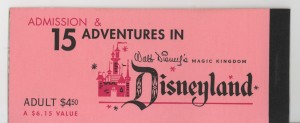 So far we're at $18 for a family of 4 to go to Disneyland, but remember that you only get 15 attractions to start with and the number of each A, B, C, D or E coupons varied by the book you got (depending on price). In other words, if your ticket book gave you one E ticket, but you wanted to go on the Matterhorn 3 times, you needed to buy 2 more tickets at $0.50 each. In today's money, that was about $4 per ticket so factor in that extra $8!
2013 Admission
There are quite a few options for getting in the park these days. You have annual passes, 1, 2, 3, 4 and 5 day passports and you have a choice of going to two parks or just one. For the sake of this comparison, let's look at the cost of a 1-day 1-park ticket: $92. We won't worry too much about the $6 discount for children under 10.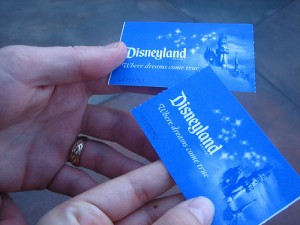 For a family of 4 today, you're looking at $368. But remember that's only for 1 park. If we got the 1 day Park Hopper ticket, then the price goes up to $137 per person for a grand total of $548!!
Results
After adjusting for inflation, you get about $140 for a family of 4 or $35 per person in 1959. No matter how you look at it, Disneyland was much cheaper than today…$228 cheaper to be exact. But many people are asking why have there been so many price increases and more often than not, the answer always seems to be that Disney is greedy. I disagree however.
First of all, it's hard to judge the value of something like a theme park because everyone has a different opinion on what entertainment is worth. Second, it's hard to directly compare the price of Disneyland in 1959 to today simply because the experience at the park is much different now. Not only are there many more attractions of much higher quality than before, but today's ticket price includes unlimited use of all rides and attractions all day long. As mentioned earlier, simply riding the Matterhorn 2 extra times in 1959 would cost about $8 in today's money. The more rides you went on (past your initial 15 included in the ticket book price), the higher your price went from your $35 starting point.
But even after you consider the increase in attractions, overall park quality and entertainment options (shows, parades, fireworks, etc.), some people are still left feeling like they've been robbed. And above all this, we still haven't factored in the cost of parking (currently $16), food, snacks, merchandise, etc.
Conclusion
It's my belief that Disney increases theme park pricing because the market allows them to. They don't have any real competition if you think about it. Sure there's Knott's Berry Farm and Magic Mountain down here in Southern California, but the experience of these two parks is NOWHERE near that of Disneyland. That Disney "magic" that everyone talks about really does make a difference.
Since the competition is small, people will pay to get into Disneyland. And year after year, people have proved this. Attendance rises every year even though prices do as well. You may not think it's fair, but that's capitalism at its best. I have to also believe that Disney is somewhat controlling its population with pricing hikes. If the prices stayed low, both parks would be mob scenes 365 days a year! As a local, I have an annual pass and I can count how many times I planned to go to Disneyland only to be presented with a sign telling me they're "at capacity" on one hand and frankly, I'd like it to stay that way. Physical space has its limitations and the parks can only handle so many people before the quality starts to diminish and/or safety becomes a factor.
Of course Disney is running a business and they would be stupid not to turn a profit. Just like how movie theatres get away with charging $13 per person and gas stations get away with charging over $4 per gallon, Disney will not miss an opportunity. In the end, you can't just say Disney is being greedy. We all know that the cost of everything is going up and Disney has to support the park in so many ways that you don't see including property taxes, permits, annual fees for inspections, electricity, gas, water and the list goes on and on.
So is Disneyland really that much more expensive? Well, if you just walked into the park in 1959 and 2013 and did nothing else, yes it is. But if you wanted to go on many rides many times throughout the entire day, then the price could be somewhat the same after inflation is considered. In fact, considering that today you get two theme parks with unlimited rides, you could say you're getting much more for your money now than you ever had before.