New Announcements From Google I/O 2013
Today, Google I/O 2013 kicks off with a series of new updates and features from Google and Android…most of them being released this afternoon! As per usual, Google started by providing current company stats including the fact that Google Play has surpassed the 48 billion mark for Play Store app downloads. Android continues to grow with over 900 million device activations in 2013.

Although the majority of updates were aimed at developers, there are a few things that will benefit the consumer. I'll touch on some of these items, but if you want more information on what the developers are getting, you can read more about Android Studio at TheVerge.
I'm a little disappointed that we didn't get to hear anything about new Nexus devices or the rumored new Google Babel service which is said to be the end-all app that groups Google Talk, Voice, Google+ Messenger, SMS and MMS all under one roof, but there are plenty of other new things coming from Google that will please almost everyone.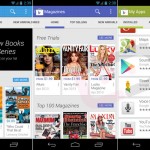 Google Play — Google intends to seamlessly sync Google Play as it exists on the web with all devices. The new layout provides a much better listing of recommendations and easier ways to purchase music, apps and games. Included are a couple of new services:
All Access: Google's new streaming music service. If you're listening to a music track and you like it, you can create a new "radio station" instantly and All Access will begin streaming music based on the artist playing similar to Pandora. All Access launches today and is available on all Android devices for $9.99 per month with a 30-day free trial. Google is calling it "Radio without rules" and have stated that if you start your free trial buy June 30th, your monthly price will only be $7.99 per month. I'm not sure if that deal is for life, but even $10 is a great deal for access to millions of songs.
Game Services: Just like Apple did with iCloud, Google aims to provide integrated support for all games on ALL platforms across the web. This would include games on iOS, Android and online! Although multiplayer support is not yet available across the service, game developers are already jumping at the chance to provide game services to users on different platforms without having to create separate gaming networks. Imagine playing a game on your Nexus 4 and then continuing it on your iPad?!
Google Play for Education: Google's history of being a great innovator bleeds into the desire to educated the world and in that effort, Google has now created an education store running parallel with the current Play store that allows for schools to sync their Google Apps accounts (student accounts) with educational apps that are recommended by other teachers. Purchasing apps can be done through the use of school funded purchase orders and apps can be automatically installed on student devices.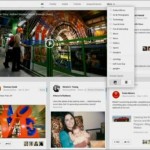 Google+ — When I first signed up for Google+, I was less than impressed, but today, things have dramatically changed. The first major change announced today is the profile stream. Google has said they were shooting for design and depth. I think they hit the nail on the head. They elaborated on three major changes to the Google+ layout:
New Streams: New stream layouts tailored to each type of device and screen size. Auto hashtags are now used to tag specific images and posts that may contain related data from around the internet. One example is if a photo is uploaded, it can be auto hash-tagged by Google image search to add location data and even context about the image.
Hangouts: Google+ Hangouts are now being synced over multi-platforms and devices to increase compatibility. This may be the closest thing we get to Google Babel for now.
Photos: The storage space on Google+ has now been increased from 5GB to 15GB for full size images and remains infinite for standard, smaller images. Other new photo features include enhanced editing tools with a focus on more automated fixes like auto exposure, color correction and noise reduction. Highlight is another new feature that will scan large groups of photos and pick out the best ones based on thousands of real human direction. Google's software has been programmed using the reactions of ratings of other photos by humans to get an idea of what your best photos should be. This will help you narrow down hundreds of pics you may have taken on a trip without spending all day doing it.
Google Maps — Google Maps was just rebuilt from the ground up making the app much more social and immersive. The map images are now in 3D and new Google Now cards make it even easier to find the places you're looking for. PhotoSphere images can be uploaded directly to Maps so other users can see virtual imagery from all over the world. This is basically Google Street Mapping done by users! To see the new Maps, Google is now taking requests for invites and should be sending them out tomorrow morning.
My Thoughts
I could literally spend days trying to cover everything that was discussed at Google I/O 2013, but I opted to stay focused on a few key areas of interest to me. I was still a little bummed that we're not getting Google Babel (at least not yet) and I was expecting to hear about a new Nexus phone and/or tablet, but overall, I can say that I'm happy that Google+ will be getting a dramatic new look—one that should go over much better than Facebook's transition to Timeline. Also, as a former Pandora subscriber, I'm curious to see how All Access will play out. Considering the major price difference between the two, I really hope there's some noticeable added benefits.
What about Apple?! There's no secret that I'm a huge fan of Google and have been since leaving iPhone behind some years ago. Today Android has really taken off and thanks to other devices such as TVs and gaming consoles, a whole new world of opportunity is upon us. I almost feel bad for Apple because even though they do make great products, they don't seem to have all their ducks in a row. iOS is great on phones and tablets, but how will this software translate into other areas of the tech world? Google is great on so many fronts and add into the mix that they are still a development company as opposed to just a corporation out there looking to impress stockholders. Granted, they are certainly "for profit," but I see them doing much more good in the world than anything else.