Posted
June 21, 2010
in iPhone
How I almost got 2 iPhone 4s on June 24th, 2010
This is my story about how I almost got two brand new iPhone 4s on the release date, June 24th, 2010 at the discount price of $299 plus tax.
First, the reason why you're seeing this story so late is because I didn't want to jeopardize my luck by broadcasting it out to the Internet for all to see, including AT&T and Apple. Second, the story I'm about to tell you happened purely by accident and if it had not been for the utter chaos that was the pre-ordering system put together by AT&T and Apple, there would be no story.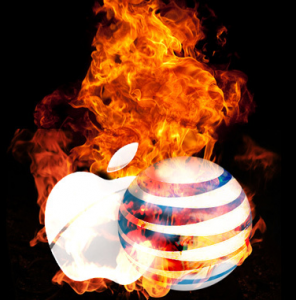 June 14th, 2010
It's the day before the pre-orders begin and I'm running around the Internet trying to get as much information about the process as I could—where to go, what time things are going down, what version I wanted, etc. I have two friends that are dying to get their hands on one and I sort of became the bearer of news for them as things were learned.
I kept thinking back to my previous iPhone purchases and even though I knew this launch would be big, I had no idea it was going to be as crazy as it was. Last year, I pre-ordered the 3GS literally 3 days before launch and had no problem walking into the store around 2pm, completing my activation and leaving without a scratch from the 50 other people who waited until the last minute to buy one only to be told they were sold out.
So, I figured this time, I'd jump the gun and get my pre-order in early "just in case".
June 15th, 2010
This is a regular Tuesday for me and as such, I woke up at 6am, got ready for work and drove to my office. My plan was to go down to my local AT&T store on my lunch break. Believe it or not, I didn't even try the pre-order process online because I've been so used to going to the store.
Sometime around 11:30am, I get a text message from my roommate bragging about how he got his iPhone 4 ordered and confirmed at the AT&T store at 8am and I get a phone call from another friend telling me about the experience he just had at his AT&T store. He cautioned that the computers were slow and lots of people were there. I decided at this point, I needed to get moving, so I headed out.
I thought that while I was driving over there, I'd give the website a try, so I started with AT&T. As soon as I logged in, I was sent to someone else's account! For the briefest of moments, I was part of the AT&T security breach problem before I had even read about it! All I knew was that I wasn't Michael from Southwest Airlines. Needless to say, I gave up on the website.
Once I got there, I was surprised to see the store relatively empty and was immediately handed over to a sales rep. When asked what I needed, I simply said, "iPhone 4". He laughed and we went right to business.
After 30 minutes of trying the system and refreshing the browser, the rep gave up and we both opted to order the iPhone 4 by pen and paper. This caused a huge level of doubt in my head because who knew when the "manual" order would eventually be processed? I was told that it was good I came in before 3pm because "AT&T will suspend iPhone 4 pre-orders after that time". Just great! If the systems are down until then, I won't be getting my phone until July!
I had no choice. I left feeling a little let down by AT&T's process and a little jealous because I had friends that already had order confirmation emails. However, I'm not one of those Apple fanboys that needs to have the latest and greatest on day one — I just really want to sell my 3GS as soon as possible.
I decided after hearing a third friend of mine having just ordered hers online when I got back to the office, that I'd try the website again. I figured if I could order one online, I'd just call AT&T back and have them disregard my paper order. This time I tried Apple.com, but I kept coming up to an error page (as expected) right on the step that verified my AT&T account information.
After trying about 40 times to get passed this step, I was nearing the end of my day and decided to try once more. I was amazed to find out that I had made it passed the error page at 4:33pm! It finally told me that I qualified for the upgrade, so I finalized the order. I ran into one more error page when trying to login with my Apple ID, but I was persistant and it paid off!!
At 4:34pm, I had a successful order placed, charged and confirmed through Apple.com for the iPhone 4. In an effort to see if the system was just acting up and possibly didn't take a real order from me, I went back through the pre-order process and tried again. This time, I was greeted with an error page saying I didn't qualify for the upgrade. I was excited to see that the two systems were talking again!
I went back to the Apple.com store to check my order status and I had a confirmed delivery date of June 24th. Ok, that took care of one phone…
After leaving work, I was about to call AT&T to cancel my paper order, but believe it or not, my phone kept dropping the call!! Damn, I love AT&T so much!! Their own service problems would be a fortuitous event for me because about 30 minutes later, I was filling up my gas tank when I get a text message from a random number.
It was my AT&T sales rep asking me for the 4 digit security code from my AMEX card. I gave it to him out of curiosity to see what would happen, but I didn't hear back from him, so I left it alone. I went home and didn't think about the iPhone anymore.
June 16th, 2010
I start my day as usual, but since I hadn't heard from AT&T about my pre-order, I decided to check in. I went to AttWireless.com and logged in. I checked the status of any orders on my account and would you believe it…there was an order for the iPhone 4!!! Just to be completely sure, I checked the statement of my credit card used in the store and sure enough, I was charged the $364!! I went back to Apple to see if anything changed over there and everything looked good. I was officially confirmed to have two iPhone 4 orders for me at the discounted price!!

My only question now is when the phone from AT&T is coming because the order date is listed as 6/16/10. I called my rep and he told me the order was entered on the 15th. He was sure that I would be getting the phone on the 24th and if I wasn't, I'd be getting an email about it.
Throughout the day, I was checking to see if my order statuses have changed and so far so good. I also noticed that Apple.com orders for the iPhone 4 were pushed back to a shipping date of July 2nd.
June 17th, 2010
The week continues and Apple.com has changed the shipping date of iPhone 4 to July 14th now. My delivery date is still showing as the 24th, but my concern was not being home for the required signature. I started searching the Internet for people who might have ordered on Apple.com that have an interest in changing the shipping address to see if doing so will upset the order. I found a post on MacRumors.com that talks about the iPhone 4 shipping address change and it appears that there is still a lot of mis-information out there.
This is because AT&T is requiring that all iPhone orders are to be shipped only to the billing address that's listed on the customer's bill. This makes sense because AT&T is trying to ensure that only qualified customers can get the discounted pricing, but it puts all of us Monday through Friday people in a bind. If that's so, why does Apple.com still allow shipping address editing? Maybe it's because they don't have a special shopping experience setup for AT&T's requirement.
People are speculating at this point whether a change can be made since the order has been paid for, but the debate is about whether AT&T or Apple can cancel or delay the order because the shipping addresses don't match. I'm not willing to risk it because I have two options: I either go home at about the time FedEx is in my area or when the phone is shipped, I can go into my account and pre-sign for the package. This way, FedEx will just leave it.
One person got an Apple shipping request link that allows you to edit or change shipping information for existing orders. In the future, this could come in very handy!
June 20th, 2010
The Apple order was cancelled. 🙁 And there goes my profit margin from a sure sale on eBay. I guess it was bound to happen: Apple calls AT&T to verify the account status right before shipping, AT&T says "sorry, this account has already processed an upgrade order" and Apple pulls the plug on my ill-fated idea.
There was nothing I could do, but hope that my AT&T order was processed on time despite having been taken by the manual way. At this time, my AT&T order status is still "In progress".
June 21st, 2010
Today was a good day because I actually called into AT&T customer support and got the same answer about my iPhone status, which was "In progress", but after I went and ate dinner, I was showing my friend what my order status said and to my surprise, there was a tracking number!!
The tracking number, however has not been entered into the system yet. From what I've been hearing is that Apple.com orders were shipping FedEx from China and AT&T orders have been shipping from local U.S. distribution warehouses, so even though my ship date was today, it's very possible that I'll still get mine by Thursday. At this point, I'm not concerned so much with having it this week, but I'm still anxious to get rid of my 3GS, so I need this phone soon.
June 23rd, 2010
I have my iPhone 4. It was dropped off by UPS today without needing a signature and everything was as expected. I had to activate it over the phone, but once that was done, everything was working great!
Tomorrow, I'll go to work as usual and be glad that I didn't have to go to an Apple store or AT&T and deal with those crowds!