Posted
September 19, 2013
in Disney
Disney Movie Club VIP Status Review
A
s a followup to my prior
Disney Movie Club review
, I have now completed my purchase obligations so I can enjoy VIP status in the club! What exactly does this mean? Well for starters, I am under no obligation to purchase anything from here on out. Let's take a look at what being VIP really means and also re-cap on my experience thus far as a Disney Movie Club member.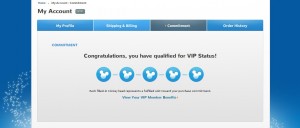 It didn't take long for me to fulfill my commitment to the club mainly because I was ordering movies almost every month to take advantage of all the great sale prices. Unfortunately I missed last month's sale which is the biggest one they have — 50% off any title after one at full price! But, I'll remain a member and keep my eyes peeled for such offers in the future. Currently, I can take 40% off so it's not that bad.

The other reason I blasted through my commitment so fast was to ensure that I didn't have any requirements looming over my head for the next two years. Now that everything is taken care of, here's what I get as a VIP member:
No more required purchases
The same great deals as regular club members
Weekly VIP deals
VIP pins
The first two features are self-explanatory. Basically as VIP, I am the same as I always was where I get to take advantage of additional price discounts after purchasing one movie at regular price. This is where the club really shines. If you're still on the fence about joining, I can assure you that when buying more than one movie EACH time you place an order, you will see major savings compared to buying all these movies separately at any store…online or off.
VIP Benefits
Since I've been a VIP member for only two days now, I don't have the historical data to claim whether the VIP weekly deals are anything to get excited about, but using my first offering as an example, you can make up your own mind. Every week, the Disney Club will offer the VIP members a movie title that can be purchased by itself at a discounted price. This means you can order just this movie without having to buy one at $29.95.
Weekly Deals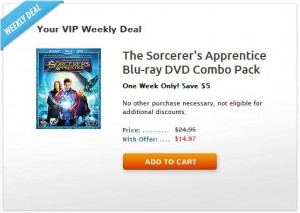 This week, it's The Sorcerer's Apprentice and it's being offered at $14.97. As you can see, it's marked down $5 from its original price. Bear in mind that at the time of this writing, this film could be purchased on Amazon for only $9.07, so sometimes it may not be a deal at all! While I have no interest in this particular film, I have hope for the weeks to come that there will be some great movies up for sale.
I have to assume that all VIP members are offered the same title, but I have no way to verify this.
VIP Pin CollectionIf you're a pin collector, this will probably be the best VIP feature for you! The Disney Movie Club has its own special pin collection with pins that are not available anywhere else (except for maybe eBay). Currently, there are 11 pins all depicting a Disney character or film title.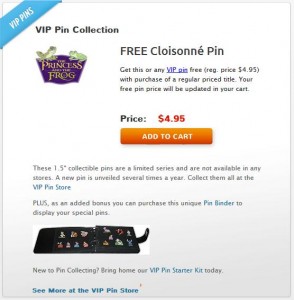 And of course, they even sell a special case to put them all in! Each pin normally sells for $4.95 each OR you're entitled to get one free pin each time you order a movie at regular price. If you think about it, the next order you place could be one movie at $29.95 plus three more at 40% off and one free pin. Do this 11 times and you'll not only get the whole pin set for free, but you'll vastly increase your Disney movie collection while saving lots of money! Oh and don't forget all the Disney Movie Rewards points you'll be earning too.
Here's the full collection of pins from the Disney Movie Club VIP store:

All in all, the Disney Movie Club is still a great option if you plan on buying Disney movies in the future. Also remember, it's not just a collection of animated Disney films made for kids. You get access to all of Disney's properties such as Marvel, Buena Vista Pictures, Hollywood Pictures, etc. And now that Disney owns Lucasfilms, it's likely we're going to see a major update to the movie catalog soon. Who knows…maybe they'll offer Star Wars one day!