Posted
March 21, 2013
in Disney
Collecting Vinylmation from Disney: A Dying Fad?
What are Vinylmations you ask? To sum it up quickly, they are the little works of art in the form of a 3 inch Mickey Mouse figure. If you've been to any of the Disney Resorts worldwide, either of the Downtown Disney Disctricts in California and Florida or one of the many Disney Stores located in malls across the country, you have most likely seen these little collectibles. What started out as a simple art project aimed at celebrating creativity among park guests has grown into a frenzy of trading, collecting, selling and locating little Mickey bodies in order to complete styled collections and sets. But has it seen its day?

Quick History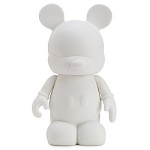 The first figures appeared on the scene around November of 2008 after first being introduced in July of the same year. But these figures were a far cry from what we see today. They appeared only as blank white figures and were sold to guests during Walt Disney World's Festival of the Masters, a free event in Downtown Disney that features colorful displays of work by award-winning artists.
After guests and professional artists alike started creating their own custom Vinylmation figures using typical art supplies and paints, Disney began to realize the popularity of this trend and in true Disney form, started contributing their own designs! The first wave of Vinylmation from Disney came in the form of a collector's set called Park 1. This set featured twelve 3″ figures and six 9″ figures all designed to match characters and elements from around the Disney parks. To create the 'collecting' buzz around Vinylmation, Disney did two things. First, they put all the figures in blank boxes so you never knew which figure you would get and second, they only showed you what eleven of the twelve figures looked like. This last figure was known as the "chaser" given the fact that guests seeking to complete an entire set literally had to buy more and more blank boxes hoping to find the mystery figurine.
This ultimately led to many collectors spending $9.95 for each figure only to end up with multiples of almost every one. Naturally, these collectors wanted to rid themselves of these doubles. Enter the trading platform.
Vinylmation Trading
Just as trading pins had become a popular cult event at Disney parks, collectors began trading their Vinylmations among other guests at the park. Most notably, you could often head down to D Street in Downtown Disney and it wouldn't be uncommon to see a few people camped out in front of the store with hundreds of Vinylmations in cases and bags ready for eager traders. Disney may have underestimated the popularity of these items at the time, but it didn't take long for them to catch up.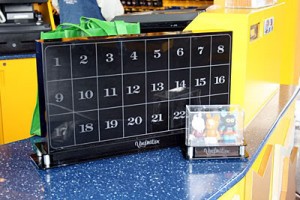 They eventually put a stop to these street traders, but I suspect it had more to do with being fair to the actual businesses that had to pay huge sums of rent money to do business in the district than anything else. However, to help facilitate the trading process, Disney started creating special trading locations much like they did for the pintraders. From there, you could trade something you owned for a mystery item or from a set of known figures sitting on the table. Guests were not prohibited from trading with each other, but it was much more difficult because nobody walked around with Vinylmation dolls hanging from their necks like they could with a lanyard of pins! Today, not much trading happens around the parks anymore and it seems the only way to really interact with other Vinylmation owners is to hop on one of the many online trading sites or eBay.
The Future
Many collectors have speculated about the future of Vinylmation. It seems that trading has dwindled some and the mad rush to pick up certain figures is no longer present at the parks. They attribute this downfall to the fact that Disney has created far more supply than the demand can support. Disney has also created new Open Edition sets that are available anytime, anywhere. Whereas all of the early sets and only some of the current sets were released, sold out and then gone forever, the Open Edition sets are just basic merchandise. When they sell out, they re-stock.
Part of the idea of collecting Vinylmation is to get your hands on early releases and figures only available in limited quantities. This causes value of such items to rise as more and more people catch on to the hobby, but missed their chance to get in on the first items up for grabs. Another threat to the hobby is the creation of sets that are not as popular. Disney seems to be creating random sets of "junk" and throwing many ideas at the wall hoping that something sticks. Just look at how many sets were released in the beginning: 1 in 2008 compared to 16 in 2010!
I have recently purchased a few Vinylmation figures, but I didn't do so in the hopes that one day I could turn around and sell them for hundreds of dollars. I actually took the more conservative approach and only bought ones that I found to be representative of my fascination with Disneyland…and because I thought the designs looked cool. Despite what the collectors think, Disney is hopeful of the future of Vinylmation and their plans consist of focusing more on the collectors rather than just souvenir hunters. Let's hope this means more mystery boxes and more rare items!
Here's my tiny collection so far: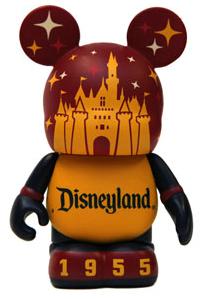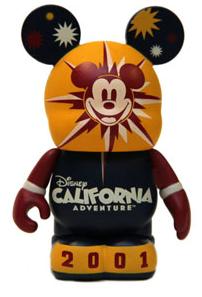 As you can see, I'm sticking with the more neutral approach. My plan is to collect Vinylmation figures representing Disneyland and any attractions that might pop up in the future series.