Posted
October 18, 2013
in Amazon
How Amazon's Customer Support Wins Me Over Every Time
It's Friday and I have a quick story for today. I can't even remember when I discovered Amazon, but like most of us who were there near the beginning, I remember ordering a book. At the time, that's what they sold…nothing but books. Also at that time, shopping online was more about finding that obscure product that wasn't on a physical shelf somewhere in the real world. Fast forward to today and I can tell you I don't even remember the last time I bought something from a physical store other than food items.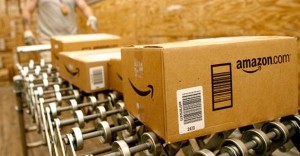 I've chosen Amazon as my go-to online shop because I have a hard time finding things they don't sell. Yesterday I decided to finally pick up the new Samsung Galaxy Note 10.1 (2014 Edition) just in time for some major projects at work that I feel it would perfect for. I'll post a full review once I get it.
Anyway, I was at Best Buy last night playing with one and I was hooked. I decided to place the order through Amazon because I prefer their customer support far more than Best Buy's and it's a good thing I did! This morning I arrived at work and decided to go read some more reviews just in case I missed anything important and to my surprise Amazon was offering a free $50 gift card with the purchase of this tablet! Most of the time Amazon will automatically send you promotional refunds even after you placed an order, but this time was different because you had to buy the gift card at the same time as the tablet in order to qualify.
I thought I was screwed so I contacted customer support to see what my options (if any) were. I opted for the live chat and explained that I had placed the order through the mobile app and wanted to know if that was why I didn't see the offer. She informed me that the offer only started today and was for all new orders! My first thought was to just place a new order and return the tablet using the first order number so I can still get the gift card, but she asked me for my order number to see what she could do.



After a few minutes she came back and said that if I ordered the gift card right then and there, she would process a refund on my original order in the amount of $50! I did as instructed and within seconds I already had a $50 credit on my tablet purchase from last night!! Although I was surprised, I really shouldn't have been. This was coming from a company that over the years has refunded me amounts as small as $0.20 just because the price of an item went down within 30 days of my purchase. I can't imagine many other retailers doing this for customers. There was also a time when Amazon somehow sent me a complete order meant for someone else. I contacted them to ask how I can return the items and strangely, they were not able to locate the order number. I said I could still send it back and they told me that without an order number they could not create a return shipping label. I even offered to pay for the label myself and they said NO. The official response was, "You can either keep the items, donate them or dispose of them."
And that's all I should have to say about that.