Review of TollFreeNumbers.com
This review comes just after the October 9th launch of the new 855 toll free prefix. I have used TollFreeNumbers.com in the past and I have been satisfied with what I got, but this time, I was blown away. Read about getting a vanity toll free number for your company for more information.

Let me start by saying if you've never dealt with a company that has a "small-time" feel to it, but has so much clout in the industry, then you don't know what you're missing. They seem to take customer service to an extreme level — even one that prompts company owner, Bill Quimby to say, "I haven't slept more than 3 or at most 4 hours per night for probably two weeks."
The Process
Here's how it went down. Since I'm on their mailing list, I received an email back in June or July that talked about the new 855 toll free extension coming out in October. In it, Bill explained the entire process of how and why these numbers were coming into light, but more importantly, how to get one for myself.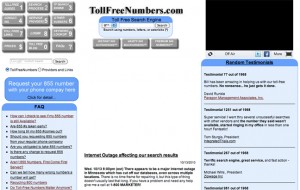 His process was to begin taking pre-order requests for specific numbers at the cost of $8.55 per request. Get it? $8.55=855 area code….ok nevermind. So, naturally everyone jumped on the bandwagon right away and began requesting their desired numbers.
I submitted a request for three numbers. Fast-forward to October 1st and even though I was told that I'd get a follow-up email regarding my requests, I actually got a phone call from a real person. Her name was Hope and she gave me exactly that; hope. She informed me that I was near the top of the list of requests and I was fairly sure to get the numbers I wanted.
The launch date had been changed from October 2nd to October 9th due to a change in the FCC's process of 855 number distribution, which was actually a result of Bill Quimby himself!!
When October 9th came around, my main concern was that I wouldn't get my number requests through because of the new limits imposed by the FCC. Sure enough, of the three requests I made, I only got 1. However, it was the one I really wanted anyway, so no real loss to me!
My Experience
Come last Saturday, I didn't hear anything about my request. Come Sunday, I still didn't hear anything. All while I was waiting, I was checking the AT&T toll free lookup site to see if my number was still available and it wasn't. 🙁 I was sure that I lost my number to someone else and I was truly upset.
However, Monday morning rolled around and I get an email from Gloria at TollFreeNumbers stating that they had gotten my number! I was so excited, I started calling it right away, but to my dismay, the call wasn't connecting! I instantly fired back an email telling them that the number wasn't working and to ask how I should handle it.
While waiting for a reply, I got worried because I had realized that my billing address wasn't correct and I noticed the $49.95 charge for obtaining the number had not hit my account yet. I started calling TollFreeNumbers to try and talk to either Hope or Gloria to make sure I wasn't going to lose my number!! At first, I didn't get a hold of anyone, but an hour later, I spoke to Gloria and she verified that my order and payment had processed correctly and everything was just fine.
I told her to disregard the two emails I sent asking about this problem and she said ok. It's what happened 10 minutes later that got me.
My cell phone rang with a New York number, so I answered it and it was Bill Quimby himself on the other end! He called my 855 number to verify it was working and to assure me that the current downtimes are simply because the databases are being hammered for requests and the phone companies haven't really straightened out their services to deal with the influx of new numbers.
I asked him a couple of questions and he answered every single one of them. How many times can you say that you talked to the head of company just because you had a few concerns about a product or service you bought?? And who has ever heard of a company head calling you?!
My Two Cents
All I can say is there is no competition with TollFreeNumbers.com. They do it well, they do it right and they do not make a distinction between small and big business. Bill Quimby knows his business and does it well. The pricing is fair and the choices are absolutely amazing. His site allows people to search for available numbers or choose from lists and lists of already used numbers that you can purchase.
If you're looking for exceptional service, great selection and an awesome sales staff that is there to help you with ANY problems or concerns you have, then look no further than TollFreeNumbers.com!!
Here's a tremendous thank you to Bill Quimby, Hope, Gloria and everyone else on the TollFreeNumbers.com staff — if it wasn't for all of you, I would not have the best 855 number for my business: