Authenticating a Tombstone (1993) Movie Poster
This film is known for being historically inaccurate and even a bit on the campy side, but its status as a cult classic is proof that not all great films are perfect. The amazing performances of Kurt Russell and Val Kilmer are just the tip of the iceberg and with the remaining ensemble cast, Tombstone will probably go down in history as one of the most quoted movies of all time.

Theatrical Poster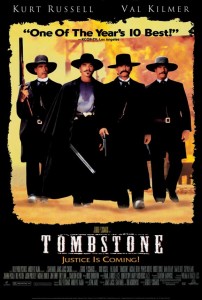 There are at least two Tombstone posters in existence. The most collected of the two is the US style A one-sheet with a white background. The second one is known as style B and has a black background among some other differences in layout.
Style B has been defined by some as a video release poster since nobody seems to remember it ever being used in a theatre setting. It also matches the package art on the original VHS release as well as all DVD/Blu-ray releases to date with the exception of the Vista Series Director's Cut edition that featured some previously cut scenes.
This likely indicates some truth to those claims, so until proven incorrect, I'm going to focus on the only known theatrical poster below.
The Details
Exact size: 27″ x 40″ (Depending on slight variations in the cutting process, these posters may be a tad larger.)
SS/DS: Double-sided. Single sided versions may exist, but I have not yet seen any.
Folded or rolled: This poster seems to have come in both conditions, but rolled is more common.
High Resolution Photos
I have taken a few close up photos of the poster both front and back for your comparison. Reprints of many popular movie posters will often show up on the market, but due to the fact that most of these illegal prints were copied from an original source as opposed to printed from original printing plates, the most common way to identify a reprint is to review the print quality. Look for blurry print quality within the movie credits or copyright text. The smaller the font, the harder it is to reproduce in a copy. Also, many double-sided posters often have the reverse image printed lighter in color than the front. Tombstone was printed using the same colors and shade on both sides.
For the Tombstone poster, one unique element to look out for is on the reverse. There is a small notice printed in yellow ink which states, "This one-sheet is the property of Buena Vista Pictures Distribution, Inc. It is furnished for advertising and promotional purposes only. Sale is prohibited."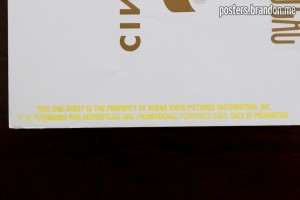 Value
As usual, value is always determined by learning how much someone is willing to pay for something, so my estimates are based solely on previous sales history and current listing prices found online only!
In a retail store, original Tombstone posters are listed for sale between $155 and $450. The price range is based on condition.
Cinemasterpieces (sells originals only) – $395 for the best condition, rated a 9 or 10. $155 for a rating of 8 with other minor flaws.
MovieGoods (sells reprints also) – $199.99 for a "near mint" original.
MoviePoster.com – $450 for an original. No condition stated.
On eBay, you can find these posters selling for around $100 or sometimes a little less. The lowest I've seen it sell for in recent times is about $80. However, the problem with buying on eBay is that you can never verify originality of the poster until you get in it your hands. The retail establishments have already done the verification and are staking their reputation on it. Of course, the price goes up to cover various operational costs, but at least you get peace of mind. This doesn't mean you can't find originals on eBay and for a great price! Good luck!