Posted
March 11, 2013
in Parks
Original Disney Parks Attraction Posters
There once was a time when attraction posters had a real purpose at the Disney parks. When Disneyland first opened in 1955, visitors would pay a small entry fee of just $1.00, but this was in addition to having to purchase ride tickets varying in cost depending on how exciting the ride was. Because of this, the park's attractions relied heavily on word of mouth advertising in order to gain popularity. To perpetuate that momentum, attraction posters were used to entice new visitors to visit certain areas of the park. In the early days, these posters lined the fence in front of the famous Mickey Mouse floral arrangement and were seen prominently in other areas of the park, whereas today, they can only be seen as you walk through the tunnels going into Disneyland. Other Disney parks have used attraction posters at some point in their existence and may still display some today, but none have used them to the extent of Disneyland.


A Disney blog called Stuff From The Park shows us what a more elaborate use of these posters looked like. It appears that Adventureland was undergoing some construction at the time, but Disneyland wasted no space in displaying their artwork!
Sadly, many people walk by them today without a second glance. Of course, they're not really needed much anymore thanks to Disneyland's well-known history and the fact that you no longer have to purchase ride tickets separately, but they are a lovely reflection of Disney's artistic past.
Collector's Market
As you would imagine, Disney and even art collectors have long sought original Disney attraction posters for their collections. These posters came in the very unusual size of 36″ x 54″ and were silk-screened by hand. Depending on the condition as well as what attraction is depicted in the poster, they have commanded prices of $5,000 or more!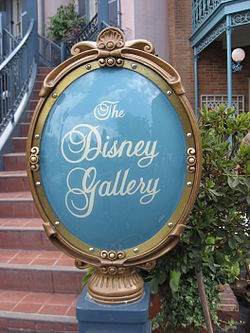 If you're interested in finding a cheaper alternative, you can actually have a copy of your favorite poster printed on-demand from the Disneyland resort. In both the World of Disney store in Downtown Disney District as well as inside Disneyland Park, you can find small kiosks that enable you to print many pieces of Disney art including attraction posters. Although you can get these printed in many different sizes as well as your choice of paper stock (or canvas) and frame options, the largest print you can make is 27″ x 40″, which is the standard size for movie posters these days.
Getting the original sized poster is difficult, but not impossible. Serious collectors are aware of a limited edition series once printed at the Disney Gallery in Disneyland that reproduced the attraction posters in their full size. From what I understand, these posters were printed separately during a short run, sold for around $100 and when a particular attraction print was depleted, it was no longer available. While these versions do not have the same prestige as owning an original silk-screened version, they have been known to sell for hundreds of dollars! Being diligent on eBay can yield you both an original silk-screened version or a full-sized replica from the original Disney Gallery. While you're at it, you may want to check with Phil Sears to see if he has come across any.
Not only are these reproduction posters no longer in print, but the Disney Gallery is no longer there! It was once located above the Pirates of the Caribbean queue and has since been moved to Main Street after being replaced by the Disneyland Dream Suite—a place where I'd really love to stay sometime!!
More Information
Because the Disney attraction posters not only have a rich Disney history, but also an art history, a wealth of information can be found online and in books. One such book that has recently been produced is called Poster Art of the Disney Parks. This book explores just about every single attraction poster created from the beginning up until today and discusses the process of creation as well as shining a little light on the history of these fine pieces of art.
If you're curious to see the many types of posters, including many that are no longer seen at the parks, check out the Disney Attraction Posters Pinterest board. Along with these images, you'll also see a number of posters used to help advertise the park in general.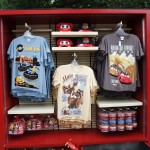 Copies of the most popular attraction posters have made their way onto Disney merchandise as well including pins, t-shirts, postcards and keychains. Even Disney California Adventure has joined the party! Today, attraction posters are still being designed and used throughout the parks, creating a nostalgic feel that only a Disney park could deliver.
If you can't make it out to the Disneyland resort to get your own copy printed, feel free to let me know. I am at the parks quite a bit these days and would be willing to get a copy printed and sent your way…for a small fee of course. 🙂 Do not waste your time purchasing these prints from eBay as most of the auctions attempt to sell the print on-demand copies for a huge markup! To give you an example, I purchased a 27″ x 40″ print of the Matterhorn on canvas (most expensive option) for $175, while online, people are attempting to sell them for almost $240 shipped. Contact me and the next time I'm at the resort, I can quote you the most current price with available printing options and can get one for you.